Total Hip Arthroplasty: What is Direct Anterior Approach Hip Replacement Surgery?
Total hip arthroplasty is a surgical procedure in which the damaged cartilage and bone are removed from the hip joint and replaced with artificial components. This can help relieve pain and restore the normal alignment and function of your hip. In December of 2013, Dr. Stewart transitioned to using the direct anterior approach for hip replacement surgery. He now performs greater than 99% of his hip replacements through this method. The direct anterior approach hip replacement is becoming an increasingly popular method for performing hip replacement surgery due to the numerous benefits it provides. The approach is the method a surgeon uses to get to the hip joint for hip replacement surgery. The direct anterior approach is a surgical technique that allows the surgeon to access the hip joint on the anterior surface, which is diagramed below.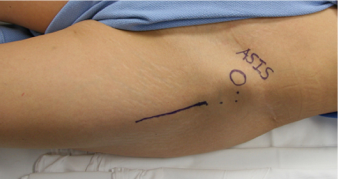 PAIN POINTS
What is Degenerative Joint Disease (DJD)?
Degenerative joint diseases (DJDs) are chronic conditions, often resulting in pain and the loss of an active lifestyle and quality of life.
There are different types of DJD that can affect the hip, including:
Osteoarthritis (OA), in which cartilage wears down over time
Post-traumatic arthritis, which results from a severe fracture or dislocation of the hip
Rheumatoid arthritis (RA), an inflammatory arthritis of the joints
Avascular necrosis (AVN), a condition where the ball or femoral head of the hip joint has lost a healthy supply of blood flow causing the bone to die and the femoral head becomes misshaped
Hip dysplasia, a condition where bones around the hip joint did not form properly, which may cause misalignment of the hip joint
---
THE CAUSE
What Causes Degenerative Joint Disease?
The risk of developing symptomatic, degenerative joint disease is influenced by multiple factors such as age, gender, and inherited traits that can affect the shape and stability of your joints. Other factors can include:
A previous hip injury
Repetitive strain on the hip
Improper joint alignment
Being overweight
Exercise or sports-generated stress placed on the hip joint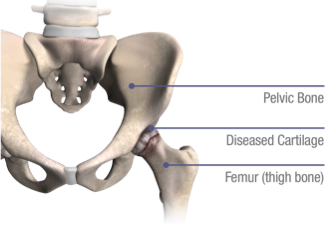 ---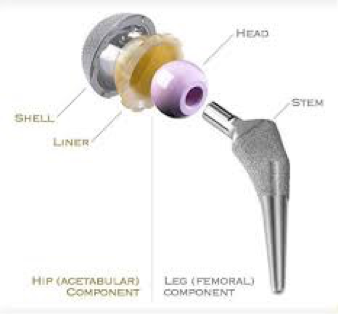 TREATMENT
Benefits of the Direct Anterior Approach Hip Replacement Surgery Include: 
Less muscle damage
Faster recovery
Reduced risk of dislocation
More accurate component positioning
Fewer restrictions
Recovery from Direct Anterior Approach Hip Replacement Surgery: 
Most patients who undergo direct anterior approach hip replacement surgery are able to bear weight as tolerated on the surgical leg immediately after surgery. Dr. Stewart may put you on a weight-bearing restriction for a few weeks to reduce your risk of developing a stress fracture, however, this is quite rare. The nursing staff and physical therapists will assist you with walking shortly after surgery. Most of our patients use a walker for the first 1-2 weeks and then gradually transition to a cane, and eventually to no-gait aids. Generally, patients who undergo direct anterior hip replacement surgery stay in the hospital one night and then go home the next day. We will arrange for you to undergo outpatient physical therapy 1-2 times per week for the first 3-4 weeks after surgery. We put all of our patients on a blood thinner postoperatively to reduce the risk of developing a blood clot. You will have a postoperative follow-up appointment with Dr. Stewart 10-14 days after your direct anterior approach surgery.
For more detailed postoperative recovery instructions, please see our patient resources page.